This is a list that will be updated regularly with all the area Fall Festivals, pumpkin patches, haunted houses, and other Halloween events. If your organization has something going on and would like to be included, email ccfunforkids@gmail.com or let us know on our Facebook page! Please check with the organization for the most updated information. Also, I don't mind sharing the info but please be courteous and give credit to CC Fun for Kids!
Hours: Fridays 5 pm-9 pm,Saturdays 10 am-8 pm, Sundays 1 pm-5pm.
Runs September 27 through November 30, 2014.
Rockin' K Maze will be closed Halloween weekend and Sunday, November 16, 2014.
Explore our 6 acre maze, Spider Web, Dummy Steer Roping, Pumpkin Head Tetherball, Hamster Wheel, Lil' Farmer's Playground, and Hay Bale Mini-maze!
Admission prices: Adults (4-64) $10.00 + tax, Seniors (65+) $ 8.00 + tax, Children 3 and under are free! Cow train $ 1.00 (Ticket includes one ride on the cow train).
FM 666 and CR 52, Robstown, TX
For information call 361-537-3308 or visit http://rockinkmaze.com.
Corpus Christi Museum of Mad Science & Haunted History
A scary transformation will take place at the Corpus Christi Museum of Mad Science and Haunted History. It's a haunted museum that is sure to scare, but welcome children & families… if they dare!
Age appropriate options:


G-RATED Flashlight Tour-- a delightful experience with actors and science show & fun activities




PG-PG13 Haunted Maze-- a kinda scary experience that will thrill!!
Dates: Friday, Saturday and Sundays-- October 17, 18,19 and 24,25,26 and 30 (Thursday), 31 (Halloween)
Time: 6:00-9:30pm
Cost: $10/members, $15/non-members (with unlimited re-entry on the maze)
1900 N Chaparral St
For information call (361) 826-4667 or visit https://www.ccmuseum.com.
USS Lexington Museum On The Bay Haunting on the Blue Ghost
Strange things are creeping along Corpus Christi Bay. LEX will be haunted from October 10 to November 1 and the ghosts will be waiting for you! Castle of Terror Productions and LEX have a ghost ship tour you'll never forget!
The terrifying tour takes the bravest of souls down to the 2nd and 3rd decks of the WWII era aircraft carrier to spaces never before opened to the public. You should be ready to handle steep ladders, dark corridors, creaky hatchways and unimaginable sights, screams and sounds. This is an intense haunted experience – think twice before enlisting!
$1.00 from every ticket sold will be donated to the Wounded Warrior Project by Castle of Terror Productions
Every Friday and Saturday until the end of the month!
Fri. Oct 10, Sat. Oct 11
Fri. Oct 17, Sat. Oct 18
Fri. Oct 24, Sat. Oct 25
Fri. Oct 31, Sat. Nov 1
Ages 6 and up, must be able to navigate ladders and confined spaces.
For More Information Contact: Debbie Crites, Marketing Director
361-888-4873 Ext. 307
Texas Sealife Center Haunted Trail
Oct 24-25 and Oct 30-Nov 1 from 8-11pm.
Come get scared for the animals!! 100% of the proceeds go to support the Texas Sealife Center!! We will also have activities for the kiddos and the ones who don't want to be scared!! Hope to scare you there!!!!
Pumpkin Patches
Asbury United Methodist Church Pumpkin Patch
Runs from October 3rd through the 29th.
Hours: 9:30 a.m. to 7 p.m on Mondays through Saturdays and 11:30 am to 7 p.m on Sundays.
There will also be storytelling at the Pumpkin Patch Monday through Friday from 9:30 AM - 11:30 AM starting Oct. 6th and ending the 25th.
Call 361-992-7501 for more information.
http://www.asburycc.org
St. John's United Methodist Church Pumpkin Patch
5300 S Alameda St.
Open daily from 10:30 AM to 7:30 PM
Cash and credit cards accepted
Runs from October 6th through 31st.
Hours: Monday - Saturday 9 a.m. to 6 p.m. and Sundays 12:30 p.m. to 6 p.m.
Cost of pumpkins: .50c up to $40 (priced by size).
Proceeds go towards their church's youth.
Call 361-933-0109 for more information
http://www.ccgrace.org
St. Peter's by the Sea United Methodist Church Pumpkin Patch
1541 Waldron Road in Flour Bluff
Runs from

October 8th until October 31st.
Hours: Monday – Friday 9:00 a.m. to dark, Saturday 10 a.m. to dark, Sunday Noon to dark
Pumpkins in all shapes and sizes. Pumpkins are priced according to size.
School/Day Care Tours available upon request. LDorDianne@aol.com or call 361-361-728-9594.
Call 361-937-1456 for more information
http://www.saint-peters-community-events.org
First United Methodist Church of Portland Pumpkin Patch
4545 Wildcat in Portland, TX
(next to the High School).
Runs from October 13th through October 30th or until sold out.
Hours:

Monday-Saturday 9:30am until 7pm and Sunday 2:00pm-7pm
The Patch will include pumpkins and gourds of all shapes, colors, and sizes. People of all ages are invited to visit our patch daily t
o select that "perfect pumpkin" just right for their family. Prices for this pumpkin fundraiser range from $1.00 to $35.00+. Feel free to come by and take pictures and wander through anytime. The patch will be open daily for school field trips and visits.
Proceeds from our Pumpkin Patch go to support our Youth and Children's Ministry programs.
Call 361-777-2000 f
or more information or to schedule your field trip.
Fall festivals, haunted houses, and more
Saturday, October 4
Bundles of Care Pre-K Center Fall Fest from 11am- 4pm! Food, games, prizes & a haunted house! All proceeds will be donated to the American Cancer Society for the Making Strides Against Breast Cancer Walk! 902 16th St.
Anita & W.T. Neyland Public Library Octoberfest
at 3 p.m. Ready for chills, thrills and laughter? Visit our Haunted House for an experience you won't forget. We will also have games for the little ones. Don't forget to wear your favorite costume. Refreshments. 1230 Carmel Pkwy. Contact (361) 826-2370 for more information.
Saint Therese Catholic Church Fall Festival (Woodsboro) starts at 12 pm (after mass).

Games, costume contest, face painting, moon jump, cake walk, funnel cake, bingo. 315 Pugh St. Woodsboro, Texas
Grace United Methodist Church Harvest Fair

from 10 am - 4 pm.

14521 Northwest Blvd.
St. Patrick School 52nd Annual Halloween Carnival from 5:30-10:30 p.m. 3340 S. Alameda. For more information call St. Patrick School at (361) 852-1211.
Ella Barnes Elementary Starfest

from 6-9pm. Join us for a fun-filled evening for the entire family!

2829 Oso Pkwy
Asbury United Methodist Church Fall Harvest from 10 am - 4 pm. Hayrides, Puppets, & More. Face-Painting, Games & Food. Come enjoy hot dogs, popcorn, caramel apples, puppet shows, carnival games, giant blowup obstacle courses and MORE -- all for FREE! Kid-Tested and Family Approved! Come Join Us! Bring your Family and Friends! It's a Blast! Catch the free shuttle bus from overflow parking at Yorktown Baptist Church. For information call 361-992-7501. 7501 S. Staples http://www.asburycc.org/asburychurchcc/fall_harvest1
Babies "R" Us "Baby's First Halloween" from 10am-11am. "Bring your baby in costume & join "Us" for a Halloween parade! Enjoy fun activities including story time, crafts and special trick-or-treat surprises for baby! Meet other parents celebrating their baby's first Halloween! Plus, raffles, giveaways & more!" 1220 Airline Rd. (361) 992-2429
Texas A&M University-Corpus Christi Campus Activities Board Fall carnival from 10 am to 1 pm. Activities and games for children of all ages on the University Center, East Lawn. Recreational Sports will have a booth and special items for our Family Fun Day Participants. For more information, contact at 361-825-2364. 6300 Ocean Drive

Owen R. Hopkins Library Spook or Treat at 3 pm. Come join us for a spooktacular time of stories, craft and trick or treating in the library. Please wear your costume. 3202 McKinzie Rd. Contact (361) 826-2350 for more information.
Church of Reconciliation Day School's Annual Family Friendly Haunted House from 6:30 PM - 8:30 PM. For all ages. 4518 Saratoga. Call 361-852-9676 for more information.
Movies at the Mansion at 7:00 p.m. Bring your lawn chairs and blankets for Spooky Stories and a FREE family movie night featuring the original Monster House! Nothing says HALLOWEEN like an old-fashioned horror movie and a spooky Mansion! Popcorn and drinks available for purchase. FREE treats for KIDS! Call 361-729-0386 for details. Fulton Mansion State Historic Site, 317 Fulton Beach Rd. Rockport, TX
Gulf Coast Humane Society 4th Annual Pawfest from 11 am - 5 pm. T
here will be tons of games, vendors, prizes, tricycle races, costume contests, a spooky photobooth, face painting, and FREE FOOD!
Sunday, October 19
Webb Elementary Starfish Fall Festival from 3-8 pm. Join your friends and neighbors at our annual Fall Festival on Sponsored. The Starfish Festival raises money for educational materials, technology tools and campus improvements that our staff requests during the school year. This year will be bigger and better than ever with games, inflatables, a rock climbing wall, music, a gift basket raffle, silent auction, face painting, delicious food and more! If you have any questions or would like to help, please contact our fundraising chair Julie Joyce at (361) 816-5243 or by email .Enjoy turkey legs, sausage wraps, brisket sandwiches, hot dogs , pizza, nachos, frito pie, corn cup, cotton candy, pickles , whole fruit, and more! Kona Ice will be selling customizable Sno Cones and we'll have sodas, water and juice for purchase.
Gulf Coast Humane Society 4th Annual Pawfest from 11 am - 5 pm. T
here will be tons of games, vendors, prizes, tricycle races, costume contests, a spooky photobooth, face painting, and FREE FOOD!
Boys & Girls Club of Corpus Christi
Annual Halloween Carnival from 6-8pm. 3902 Greenwood Drive.
Boing Boing Bounce 1st Annual Halloween Boo Bounce from 5-7 pm. 3403 S Padre Island Dr #103.

For information call (361) 855-0825.
Incarnate Word Academy Elementary Level's Fall Fun Night Halloween Bash

from 5:00-8:00 p.m.

There will be a petting zoo, pony rides, inflatables, rock-climbing wall, and much more. Tickets for admission and/or dinner may be purchased through a current elementary level family OR through the elementary level office. (Please make checks payable to IWA PTO). Admission tickets are $8 each. Brisket dinner plate tickets are $7 each.

(Dinner will be served from 5:30-7:30 p.m.)
A drive-thru will be available in the IWA Convent parking lot for those who only purchase a dinner ticket. You must have an admission ticket and a dinner ticket to eat dinner in the James R. Dougherty, Jr. Center. 100% of the proceeds directly benefit the students at the IWA Elementary Level. For information contact Fall Fun Night Co-Chairs Priscilla Olivarez, (361) 815-6990, missprisolivarez@gmail.com or Reena Bell, (361) 442-4814, reenab0123@yahoo.com. 2920 S Alameda St. https://www.facebook.com/events/560857204014669

Saturday, October 25
Flour Bluff Community Fall Fair starting at 8 am. Sponsored by the Flour Bluff Intermediate School PTA, the fair is an opportunity to bring the community together, and for clubs and organizations to fund raise in a central location.
There will be many activities for the whole family including:
BBQ COOK-OFF: Categories are - Open Seafood, Beef Fajitas, Chicken and Pork Ribs. Entry is $75 per team, includes all categories. Prizes will be awarded for Overall Grand Champion, Reserve Grand Champion, and 1st, 2nd and 3rd prizes in each category. Set-up is 6am with prizes awarded at 6pm.
PIE CONTEST: Categories are Apple, Pumpkin, Chocolate and Baker's Choice. Pies will be accepted from 11am - 1pm. Prizes will be awarded for Overall Grand Champion, Reserve Grand Champion, and 1st, 2nd and 3rd prize in each category. Winning pies will be auctioned off and all others will be sold. Entry fee is $7 first pie, $5 each additional pie.
To register in contest call (361) 425-7556 or fbipta78418@gmail.com.
MARKET: 8am - 5pm. $40 booth fee, all vendors welcome. Contact Lisa Sutter @ (361) 215-7400
SILENT AUCTION: All donations welcome. Contact Kary Roberts @ 361-877-6355
CARNIVAL: The carnival opens 11am-5pm. Featuring games, food, activities, etc. Contact Dana Lambert@ (361) 533-3623 or dana.lambert@rocketmail.com.
The Flour Bluff Intermediate PTA is also looking for volunteers, sponsors and donations. This is a great event for your business, civic club, or community organization.
For additional information, contact Deb Avery at (361) 425-7556 or fbipta78418@gmail.com.
Flour Bluff Intermediate School campus,
377 Hustlin' Hornet Dr.
Art Center of Corpus Christi Spooktacular Family Art
Time from 10am to 2pm. There will be a costume contest and judging will be from 10-1. 100 N Shoreline Blvd., (361) 884-6406
https://www.facebook.com/artcenterofcc
Michaels Stores Kids Club "Face painting + decorate a Halloween treat bag" from10am – noon. Just $2 per child for 30 minutes of creative craft fun, supplies included. Ages 3 and up. Sessions starting every half hour from 10:00 am - 11:30 am. See a store associate to join the fun! 4717 -E S Padre Island Dr. Call (361) 851-9360 for more information.
Mike Shaw Toyota Trunk or Treat from 11am to 1pm. Join us at Mike Shaw Toyota as we promote kid safety and awareness in our community. Pumpkin Giveaway to First 100 Kids! Trunk-or-Treat, Halloween Safety Kit, BBQ, Games and Prizes. 3232 US Highway 77 (Annaville) https://www.facebook.com/events/1501277240150720
Barnes & Noble Special Halloween Storytime at 11:00 AM. "Fans of the 'Click, Clack, Moo: Cows That Type' series will love this new title destined to be a Halloween classic - Click, Clack, Boo!: A Tricky Treat. Join us for this Halloween Storytime with fun-filled giveaways and activities. Trick or treat?" 5129 Blanche D Moore Drive. For information call 361-992-1339.
Our Lady of Guadalupe Parish in Sinton MEGA Festival from 11 a.m.-11 p.m. There will be food, a variety of booths, games for the kids and a raffle prize drawing with $25, 000 worth of prizes. Live music this year by Ricky Naranjo Y Los Gamblers, Jaime Y Los Chamacos, Clarissa Serna. Special events this year include a 5K Fun Run, a Silent Auction, and a BBQ Cook Off. Admission is free. For more information call the parish office at (361) 364-2210. San Patricio County Fairgrounds - Events Center Arena,

219 W 5th St, Sinton.
Luther Jones Elementary Jonesfest "Waves of Fun" from 11am to 2pm. Inflatables, slides, tons of games, face painting, cake walks, BBQ, silent auction and much more! Come Join the Fun! 7533 Lipes Blvd.

The Cattery Cat Shelter 7 Year Anniversary Open House from 1-4pm. Free pizza, bake sale, bouncy house, cat and dog adoption specials! No admission fees, but please bring an item from our wish list! Don't forget to visit our online auction and bid on some great items! Auction ends at 12pm on Saturday and items can be picked up at the Open House! http://biddingowl.com/thecatterycatshelter. Wish list items include bleach, hand sanitizer, Fancy Feast or Friskies canned food, dog treats, dog leashes, paper towels, Tidy Cats clay litter, dog play pens, Swiffer dry pads, laundry detergent, dish detergent, Walmart, Sams or HEB gift cards! 8201 Weber. http://archive.constantcontact.com/fs143/1103289318990/archive/1118909900924.html
La Palmera Fall Festival
from 2:00 - 6:00 pm. Calling all kids and pets for the big costume contest! Mark your calendars for a day of fun and entertainment for the whole family, and a great way to learn about, and get involved with, the work of local charities as we celebrate national "Make a Difference Day. The fun kicks o­f at 2PM with a pumpkin patch on the front lawn, arts and crafts, face painting, pumpkin decoration and live entertainment, including a special Halloween themed fashion show presented by Aveda Institute of Corpus Christi. There will also be costume contests for kids 10 and under, as well as pets, with special prizes awarded. 5488 SPID. https://www.facebook.com/events/1504549249801277
Trick or Treat in the Library at Dr. Clotilde P. Garcia Public Library
at 3 pm. Join us for our annual Halloween fun. Activities include a craft, games, face painting, costume contest (for ages 0-12), and trick or treating of course! Contact (361) 826-2360 for more information. 5930 Brockhampton.
Fall
Festival at Lexington Baptist Church
from 3:00 – 6:00 pm. Come join us for games, food and lots fun!!! Bounce house, music, cookie walk, face painting, games, hotdogs, popcorn, lemonade and more. Wear a costume and come join the fun! 3525 SPID.
Ss. Cyril & Methodius Catholic Church 58th Annual Halloween Carnival
from 3-10 pm. Food•Games•Inflatables•Rides•Silent auction•Raffle• Great family fun! 3210 SPID. 361-853-7371
Kings Crossing Church of Christ Trunk or Treat
from 5:00 - 7:00 pm. Trick or Treating among the Trunks, games, bounce houses, hot dogs, and a Cake Walk. 5901 Yorktown Blvd.
School of Science and Technology Fall Festival from 11am-3pm. Food, music, games, pony rides and much more. 4737 Saratoga Blvd. (The old HEB on Everhart and Saratoga.)
Church Unlimited (formerly Bay Area Fellowship) "Trunk or Treat"

after regular service times

. It's going to be a fun night filled with laughs, candy and tons of excitement! This event is for kids 5th grade and under. Non-scary costumes are welcome. PARENTS: Please bring a bag of candy for this event. All campuses will participate. For locations visit

http://bayareafellowship.com/trunkortreat
Fulton Mansion State Historic Site Halloween on the Harbor
from 5 - 8 pm. Free and open to the public on the grounds of the Fulton Mansion. Costume contest, Carnival games and Haunted Zombie Lab. Sponsored by: Fulton Mansion, The Texas Maritime Museum, The Rockport Center for the Arts and The Aransas County Public Library. Fulton Mansion State Historic Site, 317 Fulton Beach Rd. Rockport, TX
City of Portland 9th Annual Boo Bash
from 6:00 – 9:00 PM. Events will include a costume contest for children and pets, a pumpkin decorating contest, carnival games and inflatable slides. Contests are limited to the first 30 pre-registered in each age group. Register: 6:00-6:45 PM, day of the event (costume contest begins @ 7:00 PM). Registration ends promptly at 6:45 PM. The Blood Mobile will be on site; parents donate blood and save a life. An easy way to make a big difference in your community while attending this FREE event! Joe Burke Pavilion, 2003 Billy G. Webb, Portland, TX.
TCBBA Carnival Show at 6:30 pm. Join us for an evening of Halloween Carnival themed performances as well as carnival games and craft booths for the kiddos. Admission is $5 per person of any age. Carnival games and craft booths will be open at 6:30 - 7pm and again during the show's intermission. Our Show will include performances by members of the Texas Coastal Bend Bellydance Association and guest instructor Grace CraftFusion Dancer. The evening show performances are open to TCBBA Members and our guest instructor. Proceeds from this Show will go towards The Rollo's Kids Foundations Holiday Giveaway. The Rollo's Kids Foundation aspires to provide at least 70 kids and their families with Holiday gifts and a complete Holiday dinner. We will be collecting canned goods, boxes of stuffing, or potatoes, stocking stuffers, and children's toys at these events and throughout out the next few months.

This event will include a costume contest so come dressed up as your favorite character and join us for an evening beautiful spooky fun, all for a good cause. Latin Fuego Cardio Madness, 2777 S Staples St Suite C. https://www.facebook.com/events/328112587354347/?ref=22
Corpus Christi Ride-In Theater presents Hocus Pocus at 8:00 pm. "Folks, get your brooms and spell-books ready. Come join us for the wickedly entertaining and beloved Halloween classic, Disney's Hocus Pocus! We look forward to seeing you there enjoying the weekend with family, friends, and a FREE movie! But this time be sure to come dressed in costume (it is Halloween, after-all)! There will be awesome prizes in both adult and youth categories so, regardless of age, dress-up and head

down to Concrete Street Amphitheater!

In addition to our delicious food vendors we will also have our Ride-In Lounge available! For $10 you get access to the best vantage point of the film and cocktail service to the bar so you don't have to leave your seat to grab a drink. Also, for $20 you get all of the previously mentioned amenities AND you get to sprawl out on a rented lounge chair so that you can kick back, relax, and enjoy the movie in style! If this is your first Ride-In theater, go here for all the info you need including where to park, what to bring, and how to get involved https://www.facebook.com/notes/corpus-christi-ride-in-theater/your-first-ride-in-theater/230105977059341" Event page: https://www.facebook.com/events/1456807304609003
Fall Festival at Our Lady of Refuge at 10:30 a.m. Featuring a Country Store, BBQ chicken dinner for $8 donation, children's carnival, costume contest, silent and live auctions and a raffle drawing at close of the auction. Many great prizes. Our Lady of Refuge Church (1008 S. Alamo St.) in Refugio.
St. Theresa Church Spookfest 2014 Under the Big Top from 11 a.m.-5 p.m. Brisket and sausage will be served with sides and a drink for $8 a plate from 11 a.m.-2 p.m. (take-out available). Featuring a Country Store, live and silent auction, costume contest, coloring contest, craft vendors, food and game booths. For information regarding craft vendors contact jannell@popcorn etc or (361) 851-0372. at (1302 Lantana Street). For questions contact St. Theresa Church at (361) 289-2759.
Our Lady of San Juan de los Lagos, Mother of the Church Great Church Festival from 11 a.m.-9 p.m. Entertainment will be provided by different musical groups, a variety of foods, games for children, loteria Mexicana, refreshments, raffles etc. 1755 Frio St. in Los Encino's neighborhood -the area around the church and the existing buildings.
St. John Lutheran Church Fall Festival

starts at 4:30 pm. Admission is 1 canned good per person. There is a costume contest at 5:15 and the booths and games start at 6pm and run until 7:30pm.

3316 Hummingbird Lane, Hwy 77, between 5 Points and Robstown
Church Unlimited (formerly Bay Area Fellowship) "Trunk or Treat
"
after regular service times
. It's going to be a fun night filled with laughs, candy and tons of excitement! This event is for kids 5th grade and under. Non-scary costumes are welcome. PARENTS: Please bring a bag of candy for this event. All campuses will participate. For locations visit
http://bayareafellowship.com/trunkortreat
Galilean Lutheran Trunk or Treat from 6:30 to 7:30 pm. 3321 Cimarron Blvd.
Celebrate Halloween at Whataburger Field: Halloween with the Hooks from 6:00-8:00 PM. Whataburger Field will be transformed into a fall-themed playground for youngsters. Join us at the ballpark for games, contests and a chance to go trick-or-treating three days before the big night. Admission is free, but attendees are encouraged to bring nonperishable Thanksgiving food items for donation to the Food Bank of Corpus Christi. Visitors of all ages may attend in costume and knock on suite level doors, where suite holders will be distributing candy. The Hooks will also give away prizes for the best costumes. Other games at the ballpark include Halloween cookie decorating thanks to Windy City Baker's Supply, bobbing for apples and a variety of contests and goodies around the concourse. Capture a commemorative photo of your little ones, complete with pumpkins and hay donated by St. Johns United Methodist Church.

734 E Port Ave.

http://t.co/9x3wJ27h9f
DMC Fire/EMS Club "Tower of Terror" from 6:00 -11:00 pm. Fear reigns supreme during Del Mar College's Fire/Emergency Medical Services Club's annual "Tower of Terror," a fundraiser benefiting the Emergency Medical Services/Fire Science scholarship fund. Four floors of scares and fright scenes transform the Department of Public Safety Education Burn Tower into a multi-story fear factory. Admission is $5 and not recommended for children age 10 years or younger. The Fire/EMS Club will have a concession stand as well as offer a dunking booth, drunk driving carts along with face painting and an inflatable moonwalk for younger children. Cost is $5 for appropriate aged participants. For more information, contact Melissa Stuive at 698-1724 or mstuive@delmar.edu. Public Safety Complex, Del Mar College West, Airport and Old Brownsville Rd.
Chuckles Comedy Club Halloween Magic Show begins at 8pm show starts at 9pm.

All ages magic show at! Kids tickets are only $6 (12 and under) in advance and adult tix are just $8 in advance. FREE Halloween candy and great pizza specials!
For more info call 361-434-4290.
Purchase tickets early at Mesquite St Pizza and Pasta Co. or online at
http://www.chucklescorpuschristi.com
.
Thursday, October 30
Gattitown Corpus Christi Halloween Carnival
from 5 to 8:30pm. Join us for Halloween fun and games! Ping pong toss, monster bowling, costume contest, plinko, pumpkin knock down, and more! 5513 Saratoga Blvd.
Texas A&M University-Corpus Christi Islanders Baseball the Halloween Game
from 6:00 to 7 p.m.

Come on out to Chapman Field for some baseball and some great family fun. Remember it's all FREE! Located on campus, take a right at the first light on Island Blvd. Be sure to stop at the security gate to secure a visitor's parking pass. Take the second left (Oso Drive) then turn right after the police station on Dolphin Lane. Follow Dolphin Lane around to the left, and park in the Turtle Cove Parking Lot on right. Chapman Field will be just on the other side of the parking lot.

6300 Ocean Dr.
Keach Family Library Halloween Trick or Treat
from 6 to 7:30 pm. Come on over for crafts, snacks and storytime, and show us your spooky costume! 1000 Terry Shamsie Boulevard, Robstown, TX. (361) 387-3431
H-A-L-L-O-W-E-E-N Day Friday, October 31
Early Scholars Academy Fall Festival from 9:00-11:30 am. Parents, teachers, and children please join us at the Early Scholars Academy for our second FALL FESTIVAL! Come dressed as your favorite storybook character and join us in a parade around the ESA, enjoy the cool fall weather and snuggle-up for our storytelling session, and create fall arts and crafts! $7.50 per Child (1.5 - 8 years of age), free for Adults. 1356 FM 43. For information and to register Kathleen Ford at 361-564-8541 or visit fmp12.esc2.net/ESA.
Del Mar College Viking Fall Carnival from 5:00-10:00pm. Bones will clatter and teeth will chatter as Del Mar College holds its annual spooky fun fair featuring goblins and games, prizes for best costumes, and food and fun for everyone. Sponsored by Del Mar College's Student Leadership and Campus Life Office and DMC registered student organizations, participants can expect a howling good time while helping student groups raise funds for their organizations and the worthy community causes they support. For more information, call 698-1279. Harvin Student Center, Del Mar College East, Ayers at Kosar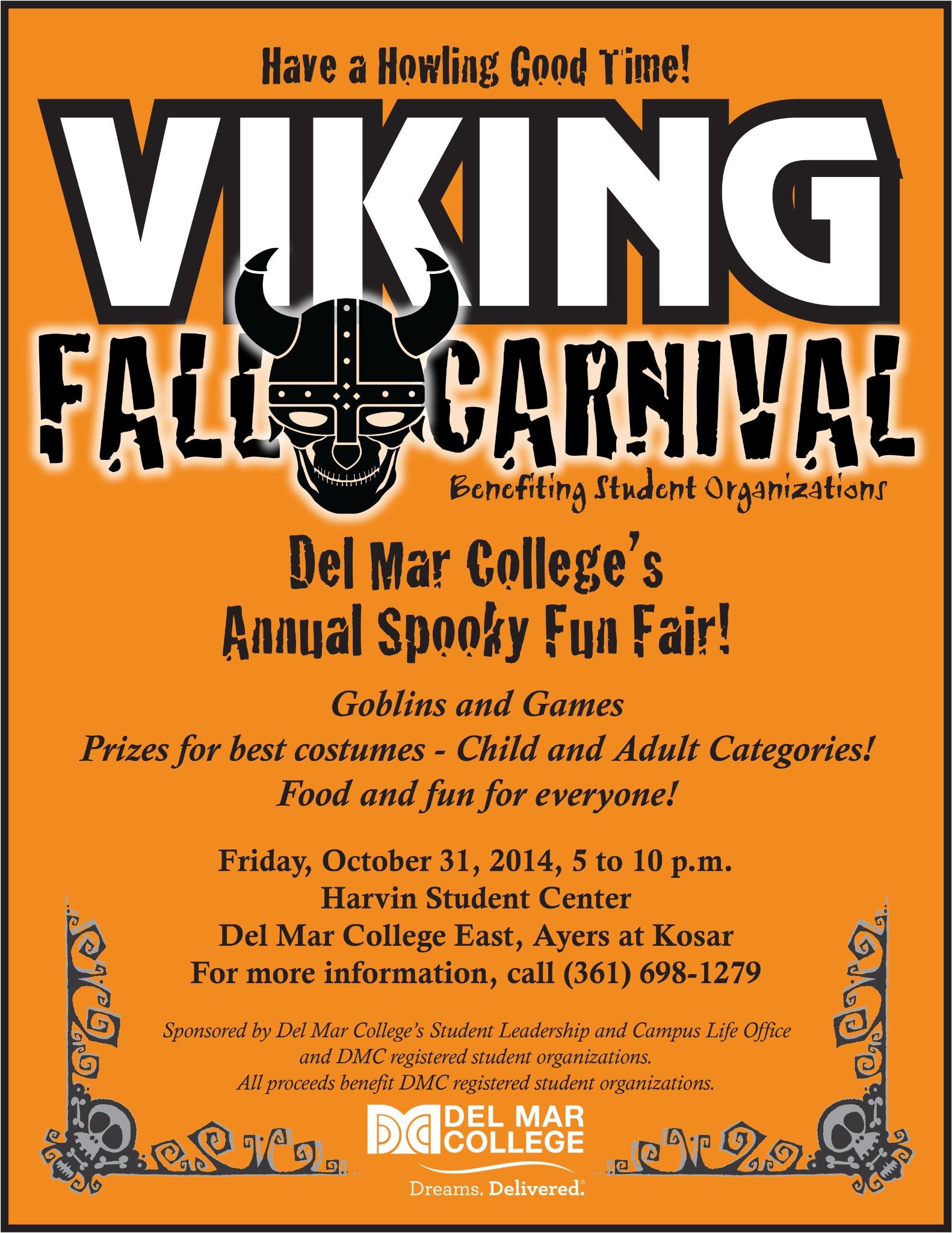 The Official Peter Piper Pizza Page Annual Halloween Party from 5:00-8:00 PM. Activities will include a costume contest, coloring contest, free candy, door prizes, games and much more! Fun for all ages! Both locations participate. Please contact each location for more information. 4121 S Port Ave, (361) 853-5353 and 6193 Saratoga Blvd., (361) 993-9336
South Shore Christian Church Annual Trunk or Treat and Carnival from 5:30pm - 8:30pm. Come join us for a ton of fun! Bring your children, grandchildren, neighbors and friends! After trunk or treating, have a great time at our carnival with many activities for everyone to have fun! Tickets will be only 50 cents a ticket! Dunking booth. Photo Booth, Fishing Pond, 2 bouncy houses, Toy Walk, Concessions, Face painting, Cake Walk, Bake Sale, Silly string battle, Toilet Seat Throw, Lots of Door Prizes, Hair color, Duck Pond, Fire dept Bean Bag Toss, Police dept Bumping Inflatables. 4710 S. Alameda St. For more information call 361-992-6391 https://www.facebook.com/events/568860929903778
First Baptist Church Noah's Ark Party
from 5:30-8:30pm. There will be games, door prizes, ponies, inflatables, the Crazy Train and food, food, food! 1 ticket for most games, tickets are $.25. Tickets are available at the door. Recreation Center, 3115 Ocean Drive.
Grace United Methodist Church Trunk or Treat from 6-8 pm. Games, Prizes and Treats for the Kids. Prizes for best decorated vehicles. Free Hot D
ogs, Chips and Drinks to the first 200 people. 14521 Northwest Blvd.
Calallen Baptist Church Trunk or Treat from 5:30-7:30 pm. Contact Victoria Rodriguez if you have any questions 361-241-4272 or forthechildren.cbc@gmail.com. 13505 IH 37.
Journey Church Corpus Christi Trunk-or-Treat
at 6pm. 12150 IH 37 at Callicoatte Rd (Annaville).
The Believers' Fellowship Church Trunk or Treat
from 6-8 pm. Free Family Fun! Hot dogs, popcorn, soda, bounce house, and more! All free! 4420 S Staples St. For information call 361-334-9723.
Kingsville - The Texas A&M-Kingsville University (TAMUK) Trunk-or-Treat
from 6-7 p.m. Led by the members of the TAMUK Student-Athlete Advisory Committee (SAAC) with Whataburger as its presenting sponsor Javelina student-athletes will decorate their vehicles for Halloween and park them along University Boulevard. They will then hand out treats to members of the community as they walk around the area. Trunk-or-Treat is an event that provides a safe environment for children to go trick-or-treating on Halloween. All sports will decorate a vehicle and children will "trick or treat" throughout the parking area. University Boulevard immediately adjacent to the Memorial Student Building (MSUB). For more information, please contact 361-593-4268 or
hanna.lantz@tamuk.edu
.
Camden Miramar at TAMUCC Presents: SAFE TREAT
from 5:00-7:00pm. Mini-carnival and trick-or-treating. We will be providing a safe, fun environment with games and activities in our Recreation Center, as well as guided trick-or-treating through some of our apartments and residence halls. For more information contact Josh Bonnell at 361-825-5000 or
JBonnell@camdenliving.com. 6515 Ocean Dr.
Church of Acts Trunk-N-Treat
from 6 to 8:30pm. 3811 Carroll Lane (church parking lot).
St. Mark's Episcopal Church
Trunk or Treat from 6:30 to 8pm. Family fun on Halloween! We will have trick or treating in the parking lot, free hotdogs, snow cones, popcorn and children's games! Open to everyone! Wear your costumes - not too scary! 2727 Airline Rd.
Yorktown Baptist Church Fall Fun Night
from 6:30 to 8:30pm. Looking for a fun, safe alternative to trick-or-treating? There will be games, inflatable bounce houses, and massive quantities of candy! There will even be a chilli cook-off! Costumes are welcome, but please no scary costumes. You and your family will not want to miss this event! 5025 Yorktown Blvd. 361-993-9675
http://www.yorktown.cc/content.cfm?id=415
Port Royal Ocean Resort & Conference Center Haunted Hotel Event
at 6 pm. Port Royal is under quarantine and the zombies & ghouls are coming our way. We will have a fun pool party & costume contest, Live DJ spinning your favorite jams, drink specials, make up/face painting for our guests. We will also have a fun kids club with trick or treating, movies, crafts, cookie decorating and more! Don't miss out on this great event. It is open to the public with only a $25 fee. (The fee is per person for each adult and each child with no age minimum.) Port Royal Ocean Resort & Conference Center, 6317 State Highway 361, Port Aransas, Texas https://www.facebook.com/events/645277788922686
Corpus Christi IceRays Sticks & Treats Night
at 7:00 pm. Fans under 12 years old wearing a Halloween costume will be admitted into the game FREE of charge. All fans dressed in costume will automatically be entered into our costume contest, with the top-three costumes receiving prizes including a $100 cash prize for the best costume. Most importantly, children will be able to trick-or-treat throughout the American Bank Center Arena during the game in a safe, family friendly environment. For more information on this weekend's promotions, call the IceRays Front Office at 361-814-7825. Tickets can be purchased at www.ticketmaster.com or by calling the American Bank Center Box Office at 361-826-4744. http://goicerays.pointstreaksites.com/view/goicerays/news-1644/news_208127
Satuday, November 1
Art Center of Corpus Christi Family Art Time
from 10am - 2pm.
Dia De Los Muertos Sugar Skull Collage project! FREE!
No registration - come and go as you please. 100 N Shoreline Blvd. (361) 884-6406 https://www.facebook.com/artcenterofcc
For the Love of Strays 2014 Annual Furr Fest
7th Annual Dia de los Muertos Street Festival
from 3 pm to midnight. T
he festival is held in the 400-500 blocks of Starr and 500-700 blocks of Mesquite Streets in downtown Corpus Christi. Everyone is encouraged to wear a costume. The event includes live music, Mariachis, Folklorico dancers,
Hecho a Mano Art Expo, Kids' Activities, community altar, food, drinks and more.http://www.diadelosmuertoscc.com/
Sunday, November 2
St. Joseph Annual Fall Festival
from 2:00 PM - 8:00 PM. There will live music, a raffle, games for the children, a silent auction, karaoke, face painting, moon walks, and lots of great food! Come taste the delicious turkey legs, menudo, funnel cakes, roasted corn, Frito pies and more from our food booths. There will be seating available and you are welcome to bring your lawn chairs too! The proceeds from this fundraiser will help to reduce our parish debt. If you would like to help sponsor our Annual Fall Festival, or if you would like to donate any items to our silent auction, please call the parish office at (361) 882-7912 or email sjoffice@stx.rr.com. 710 South 19th St.