Some kids in the area are already back at school but for the majority the first day of school is Monday, August 24th. Most of the Summer programs are over but that doesn't mean there's nothing left to do. These are just a few ideas
you might not have thought of to do this week before school starts. Some of these are from the article I wrote for NSIDE magazine with ideas for things to do with your bored kids.
Of course there are always the usual favorites like the Corpus Christi Museum, South Texas Botanical Gardens and the
USS Lexington
.
Museums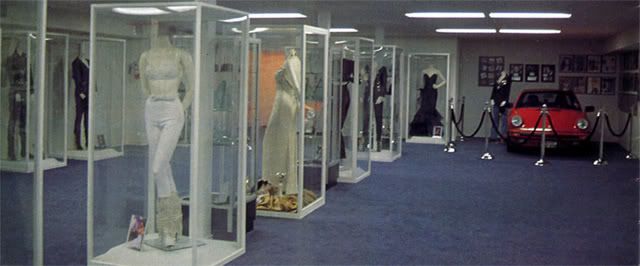 Selena Museum (

5410 Leopard St.)

is located at the Q Productions Recording Studio. It got a lot of attention from tourists during the Fiesta de La Flor but but many locals aren't aware that they can visit. The museum displays Selena Quintanilla memorabilia and admission is only $3 per person. Hours are Monday-Friday 10:00 am to 4:00 pm.

For more information call 361-

289-9013.
Texas State Museum of Asian Cultures & Education Center
(1809 N. Chaparral Street)
has been around for a very long time but doesn't get enough love. It's a nice way to spend the afternoon. There are some wonderful exhibits and it's a great way to learn about different Asian cultures. Hours are
Tuesday through Saturday from 11:00 a.m. – 5:00 p.m. Admission prices are $6.00 for Adults , $5.00 for seniors and military, $4.00 for students, and $3.00 for children under 12. For more information call 361-881-8827.
Nature
The
Aquarium at Rockport Harbor
(706 Navigation Circle)
in Rockport is a cool little aquarium that showcases local sealife as well as free activities. It's o
pen from 1 - 4pm and closed Tuesday and Wednesdays.
Admission is always free and they even allow dogs. For more information call 361-727-0016.
The University of Texas Marine Science Institute
has several different facilities that are open
to the public and provide educational opportunities for your kids.

Visitor Center/Wetlands Education Center/Estuary Explorium (630 E. Cotter Ave.) in Port Aransas or the The Bay Education Center (121 Seabreeze Drive) in Rockport. T

he Visitor Center in Port Aransas

p

romotes

marine science with self-guided tours and educational movies that lets people get a view

a view of the diversity of local marine life. The

Bay Education Center in Rockport

allows visitors to

explore the estuary through interactive exhibits and outdoor activities. It also has the Science On a Sphere, a spherical display system created by NOAA to illustrate Earth science concepts to people of all ages.

The

Wetlands Education Center provides free guided tours for the public. The newest attraction is the Estuary Explorium which houses approximately 950 square-feet of engaging exhibits that are designed to increase public awareness of the value and transitional nature of the estuarine environment.

Admission is also free and it's a great way for the kids to get into learning mode before going back to school. For more information call 361-749-6711.
Texas Sealife Center (

14220
S Padre Island Drive
)

is a sea animal

rehabilitation center but also an education center where kids can

meet education animals as well as animals currently being rehabilitated. They also have an awesome haunted house for Halloween so keep your eyes peeled for that.

Admission is free but they run exclusively on donations so they are appreciated.
Open to the public on Wednesday-Saturday 10 am-4 pm and Sunday 12-4 pm.
For more information call
361-589-4023
Cool down
Texas State Aquarium
HEB Splash Park
(2710 N. Shoreline Blvd) is worth the admission alone!
You can really spend all day in the splash park but you definitely want to check out all the awesome animals at the aquarium.
If you buy your admission online during the week, you get discounted admission. Regular priced aquarium admission:
Adults (13& Up) 22.95,
Military
and
Seniors (65 & Up) $20.95,
Children (3-12) $16.95,
2 and Under Free,
Parking $5.00. Splash pad hours are
from 10 am to 6 pm every day. For more information call 361-881-1200.
Aransas Pass Aquatic Center
in Aransas Pass (400 E Johnson Ave) is the first original waterpark in the area with
3 pools, 3 slides, a high dive & low dive, lily pads, and a rope net for everyone to play on. There is also a kiddie pool with slide and water features for the kids.
Hours are from 10 a.m. - 6 p.m.
Admission is $6 for adilts and $5 for children and seniors over 55.
For more information call 361-758-7770.
Portland Aquatics Center
in Portland (2002 Billy G. Webb Drive) is a year-round outdoor facility featuring two pools. The recreation pool includes a boat slide, a dual slide, bubblers, palm tree splashers and a zero depth entry. The heated competition pool measures 25 meters by 25 yards, ranges from 4-13 feet in depth and includes diving boards, lily pads and floating play structures. The facility also features four large shade structures and lawn furniture. The pool is open from 12:00 - 6:00 PM on Tuesday – Sunday.
Daily Passes are $4 for children and adults, $3 for seniors (60 and over), and children under 2 are free.
For more information call 361-
777-0792.

All photo credits go to each individual facility's Facebook page.